Kung Hei Fat Choi! Metro Manila has a very large Chinese population and though it's not a legal holiday, the
Chinese Lunar New Year
is celebrated in many parts of the metro. The newspaper we subscribe to has a special section about it today and many of the ads—especially those for restaurants, malls, banks and airlines—follow the theme. This is also the time when we receive
tikoy
(
nian gao
) from our Chinese friends. Tikoy is a sweet, glutinous rice cake which is ready to eat out of the box but which we usually slice, dip in egg, and pan fry. It's usually white or brown depending on the kind of sugar used to make it, and in recent years, flavored varieties like
ube
(purple yam) and
pandan
have become popular. Tikoy is the most common Chinese New Year treat among Filipinos and it is considered good luck to eat it because
nian gao
is a homonym for "every year higher and higher."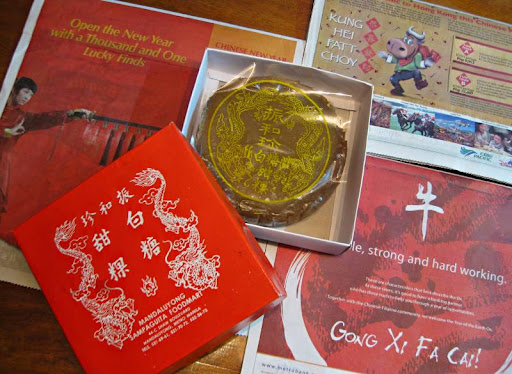 ---
Angela in Nice
, who also keeps a
Valbonne
daily photo blog, tagged me yesterday to reveal five details about myself (as if I don't do that every time I write comments! heehee) so here goes:
I've been a bookworm every since I can remember. My stack of books waiting to be read will keep me occupied for at least five years—and it keeps growing every time we visit bookstores.
I usually get motion sickness in enclosed vehicles. I need to feel the wind on my face.
I'm 5 feet 9 inches (1.75 meters) tall.
If I have to choose between chocolate and potato chips, I'll choose potato chips.
I'm an Aries and was born in the Chinese Year of the Fire Horse. (Do you know your astrological signs?)
Now I'm supposed to tag five other people. I hope they'll come out and play!